Sunday, May 15, 2011
Hello lovelies. Today is the first of two dreads posts. Basically, I wanted to answer questions and explain some things I've learned after wearing *synthetic* dreads for a while. Even if you can 100% say you'll never do the dreadlocks thing, maybe you'll get inspired to put some
UMPH!
back into your own style—give that color or cut you've always wanted a go!...Cuz hair always grows back, girls; and while you wait, you could always just install some dreads;)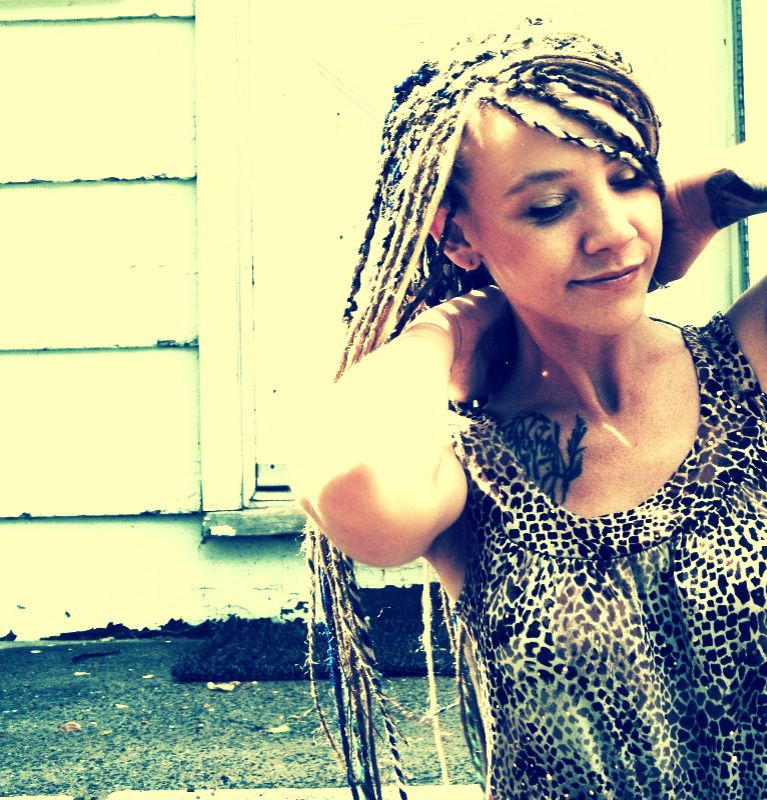 This first segment is about deciding what you like, the installation, what to expect, and how they wear over time. My second post will be later in the week. I have also included links to a couple
*FAB*
dreadlock Etsy shops. Check 'em out!
A final note: These two blog posts are just my own observations—I'm pretty new to dreads myself...But, if you're considering getting them, hopefully I can answer some of your questions.
Choices, Choices, Choices!
So you want dreadlocks!...Well, your choices are really endless as far as color and style. Typically, dread sets (counts of 80 to 100 dreads) will be offered in your choice of four colors. (You can always ask for more colors, but it will affect the price.) For my first set, I played it safe and went with two normal colors (dark and medium brown) and two brighter shades (pink and red). This time around, I wanted something really summery. A little lighter. And crazier:). I did blond, light auburn brown, royal blue, and turquoise. You can check out the typical color choices
here
. It's super fun to pick out whatever color hair your heart desires, knowing you needn't dye or damage your hair in any way to achieve it. Awesome!
For myself, length is the most fun part to decide. Full sets are often offered in 18-22" lengths. If you measure from the nape of your neck 22" down your back, that is fairly long hair. But I wanted
Rapunzel
hair:) So, the first time I asked for a few to be in the 20" range (face framing dreads) and the rest to measure about 26". For my current blond/blue dreads, I added two inches. I love them. (And, yes, I sit on them all the time!:)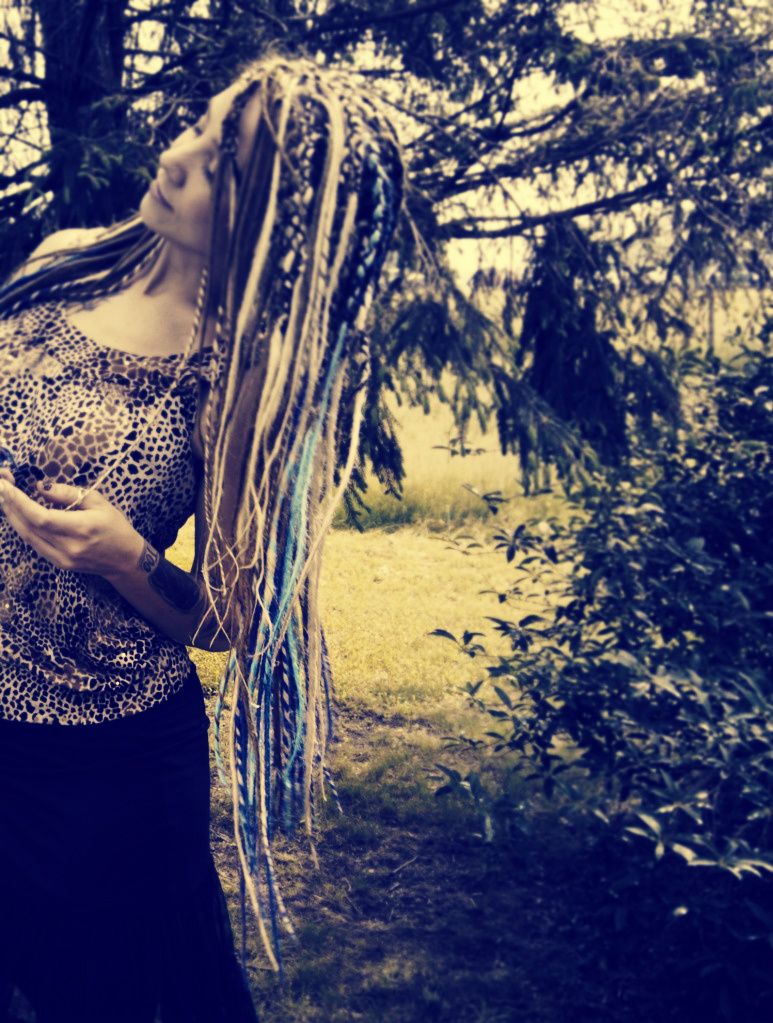 There are lots of different style dreadlocks: solids, transitionals, swirls, candy canes, braids, wrap braids, naturals, color splashed, blended, harlequin, etc. You can Google any of these for a picture of what they look like. Both my sets had candy canes, transitionals (one color blended to another), and solids. You are also given the choice between single-ended dreadlocks, or the double-ended variety. I like to order 15-20 double-ended ones for the top of my head (that = 30 to 40 dreadlock pieces once installed) and then the remainder in the single-ended style. The first photo below is of double-ended dreads. The third photo shows the installation loops of the single-ended type.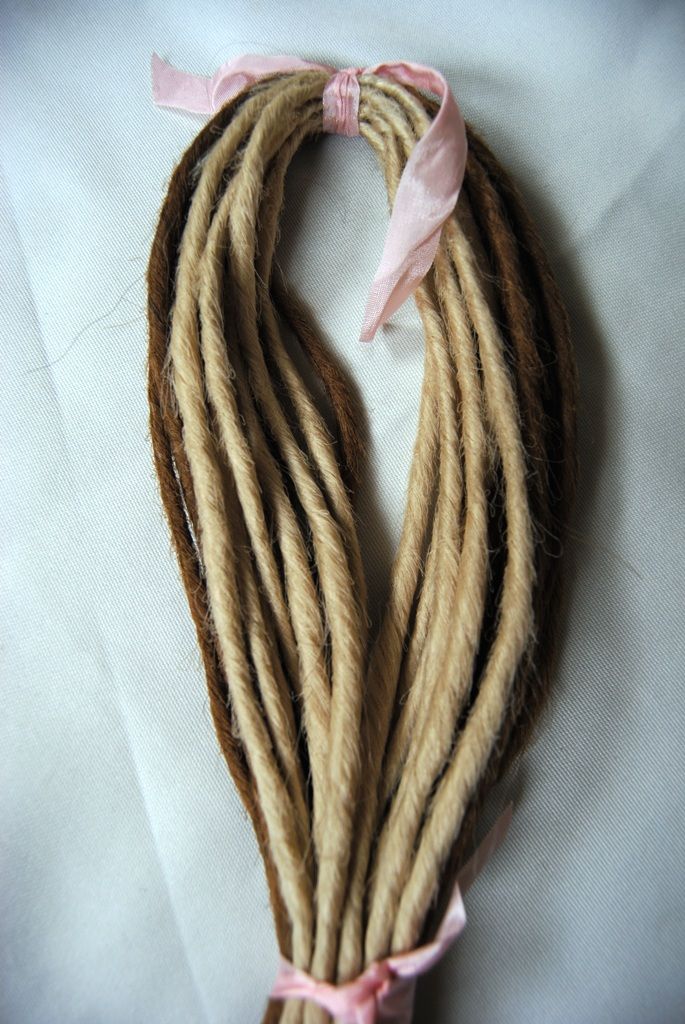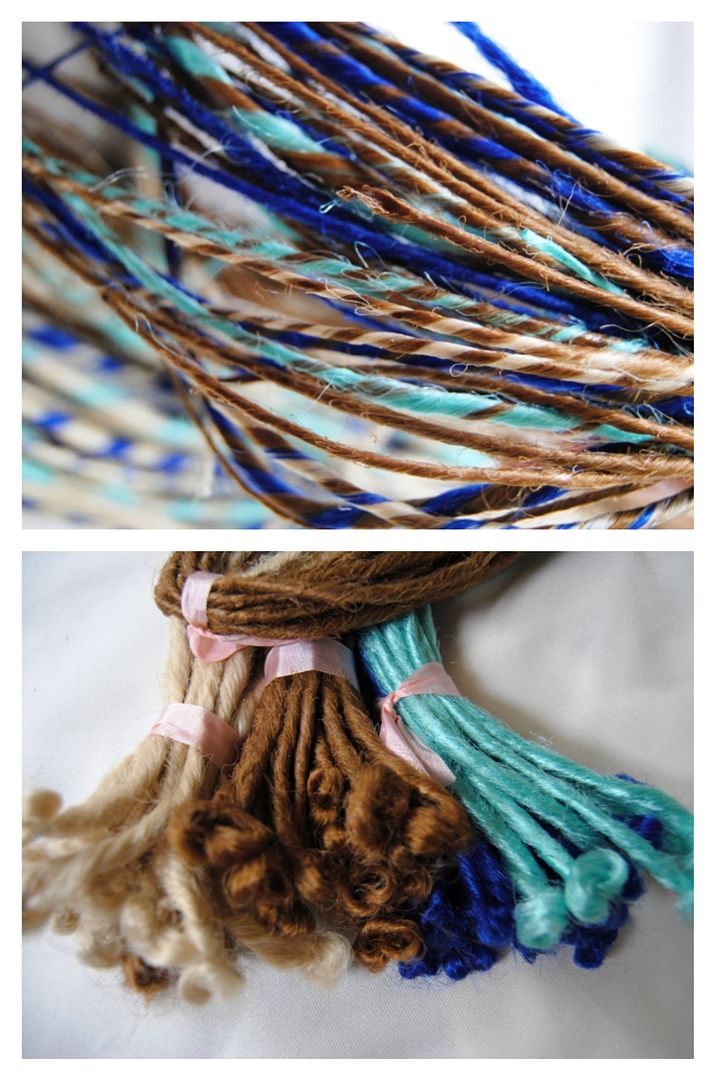 I was totally stressed about finding someone to install my first set of 80 dreads. I called around everywhere, even upscale salons that advertised
everything
. Well, no one was interested...And most of the girls on the phone sounded completely baffled.
Really...dreadlocks?
After listening to my complaining, my sister offered to give it a go. She is
so
good at braiding; it was worth a try. She was a pro from the start, and after a few hours my dreads were securely in my head:)...Sisters are the best! She tightened them once, after three weeks. I wore them until I hit the 6-week mark. If you know someone who can braid, offer them a free dinner and get them to do it for you! It's so much nicer to watch a movie and have some good old girl talk then to sit in a salon anyways.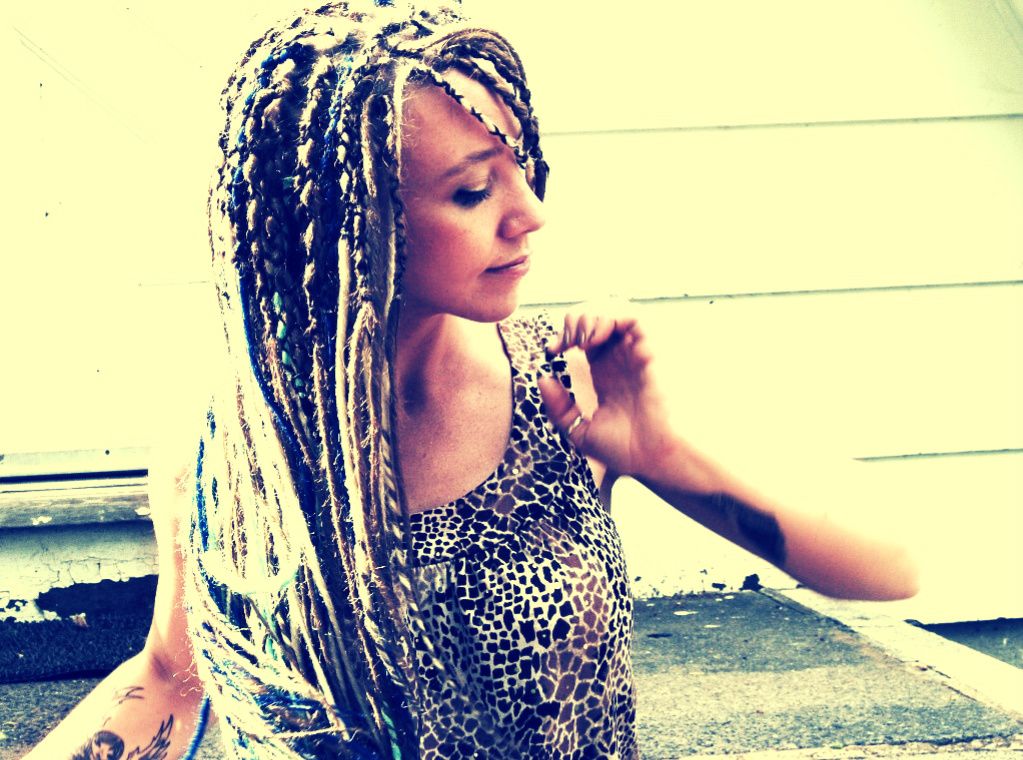 I've had people stop me and ask, "Aren't they soooo heavy?!" Well, honestly, it's not too bad. And I have a big head and a skinny neck as it is (or so Phil tells me:), but the added weight never really bothers me at all. The *only time* I noticed it was when I pulled them back into a ponytail. And then ran 4 miles. I thought my neck was going to snap and my head roll away:). (Note: when you exercise, put them in pigtails. It distributes and balances the weight better.) Seriously, though, they are worth the small burden...It probably isn't what you'd expect.
Can you wash your hair?...Yes!! I rinsed my hair through at least once a week.
It is totally fine to do this. The only true downfall to washing your dreads is the amount of time it takes for them to dry. My pillow is always wet the night after. Literally, it's a 24-hour process of drying up.
Can you style them?...Absolutely—but do not use any heat on them, i.e., no curling irons, straighteners, etc. That will probably ruin them. I like to pull them back into a ponytail, pigtails, half up/half down...Try it all. I love to add flower clips and nerdy glasses-- they are so fun to accessorize:)!
Look at the photos below to get an idea of how they look pre-installation (blond/blue), and after 6 weeks of wearing them (dark brown/pink). I order them pretty skinny (although you can go fatter/more natural) . When my first set arrived in the mail, I was surprised to hold them in my hands. It didn't seem like there could be enough to fill my head.
(Like I said, I got a dome, kid
;) ... 80 dreads did the job, though. As I wore them, they became thicker. Fro-ed out a little. This made me nervous at first, but I ended up liking it. They looked much more real this way. I can't wait till my new ones get a little poofier:). And my first set is still in nice enough shape to re-install them for another 6 weeks in the future.
Okay, so if you are feeling like you might wanna give this a try, check out
Imp and Petal
and
Damnation Hair.
I have bought from both Etsy shops, and the girls are fabulous! (
Imp and Petal
is currently taking a hiatus, as they are in the midst of adding to their family:) I have already ordered a second set from
Damnation Hair
...How does dark brown, red, orange, and emerald green sound?...Perfect to tuck away for Halloween:)! And that is really the fun of it all- creating a look you can otherwise only dream about. I'm hooked:).